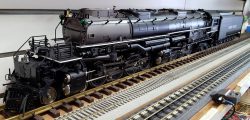 Whistle Stop Trains is home to the largest collection of model trains in Portland, Gresham, Milwaukie, and Happy Valley, OR and the surrounding region. We take immense pride in giving our fellow collectors and hobbyists access to model train layouts from a wide range of manufacturers, with variety enough to help any collector complete their assembly.
Models in Stock
Alongside our extensive selection of model train sets in Portland, OR, we bring customers a best-in-class variety of individual HO scale brass model train layouts, designed to enhance your collection. Our in-stock model options include:
HO Steam
HO Diesel
HOn3
Passenger cars
Rolling stock
Rail Lines Featured
Within our superb gamut of options, we stock individual cars and models spanning a wide selection of rail lines.Some of the most popular include:
Northern Pacific
Southern Pacific
Western Pacific
Union Pacific
Great Northern
B&O
Manufacturers We Stock
Our inventory of individual model train layouts is also built around some of the most respected manufacturers in the industry. Collectors flock to us because we're able to provide some of the most sought-after pieces from recognized manufacturers, including:
ALCO
Balboa
Cascade
Coach Yard
Division Pt.
Hallmark
Key Imports
Lambert
North Bank
Oriental
Overland
PFM
Precision Scale
Seiko
Shoreham Shops
SOHO
Sunset
United
Westside
Catering to Collectors
Our selection of brass model train layouts has been carefully cultivated to appeal to collectors of all types—whether your collection focuses on a specific brand, railway or era. We want you to be able to confidently come to our shop and find a piece that piques your attention! And, when you do find the perfect addition to your collection, we'll work with you to come to an agreement* that enables you to leave as the proud owner of a new crown jewel.
*Please note that some of the brass models in our shop may be there on consignment. We are not able to negotiate on the prices of these items. We are sorry for any inconvenience this may cause.

Find a Model
If you're looking for brass HO model train layouts, Whistle Stop Trains is your premier destination. Please stop in today to see what we have in stock or contact us at 503-761-1822 if you're looking for something in particular. We'll be happy to assist you in finding the ideal brass model for your collection.